1. Introduction
Verge is a modeling microphone by Antelope Audio, suited for the manufacturer's real-time mic preamp modeling. Combined with the already highly acclaimed Antelope Audio FPGA Vintage Compressors & EQs, this new modeling microphone will comprise a true cutting edge front end that will usher in a new era for modern recording.
This small diaphragm modeling microphone is perfectly suited for both nuanced accuracy and high SPL recording. Also exhibiting excellent performance on it's own, it can take on the character and personality of the world's best small diaphragm condensers and electrets.
Verge can be transformed into a vintage replica via the Antelope Audio Mic Emulation Packs.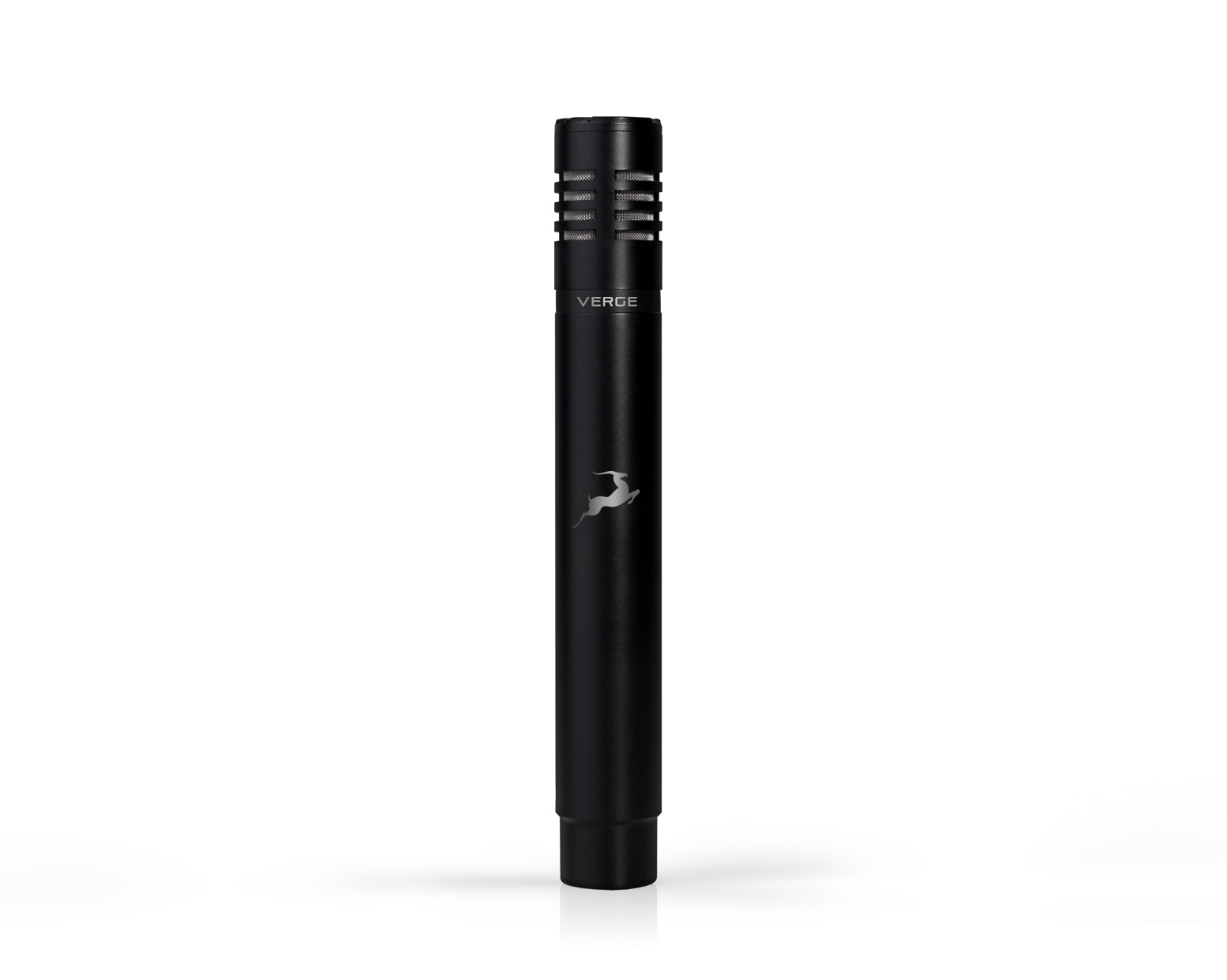 2. Safety Notes
Phantom power – ensure phantom power supply is 48V.
3. Claim and assign features
Claiming features:
Open Antelopeaudio.com and click LOGIN.
Enter your credentials and password
Navigate to Claim Features
Enter the voucher code ME*****, mark the checkbox on the End Users License Agreement and click "Claim"
Assigning features:
Open the Discrete Control Panel and go to the Help tab (the "?" button)
Open the Administration panel
Mark "Register device and assign features" and continue
Mark the checkbox with the Microphone Emulations and continue
The device will restart and your new Mic Emulations will be available.
4. Load a Mic Emulation in Discrete 4 or Discrete 8.
Open the Discrete 4 or Discrete 8 Control Panel and click on the little settings icon on the preamp gain control.
To have access to the mic settings, the input should be in Mic mode.
When you load a Mic Emulation the following screen will pop up.
Note: 48V Phantom power will be automatically enabled.
The following controls are available on the pop-up window:
Phase invert – allows you to invert the polar pattern of the signal in the selected Mic input.
Phantom power switch – by default switched on when you're loading a Mic Emulation in the Discrete 4 and Discrete 8 Control Panel.
Mode switch – allows you to switch between Verge, Edge or turn the emulation off.
Emulation select – here you can choose the exact model of the mic you wish to emulate. For the moment available are the following: Berlin 184, Perth 55, Freiburg 6, Aalborg 4006, Hamburg 40 and more will be released very soon.
Pattern selector – only active if the microphone has multiple patterns.
4. Technical Specifications
 Diaphragm: Condenser (back electret type)
Freq. response: 40Hz ~ 20kHz
Sensitivity: -40dB | 10mV/Pa (+/-3dB)
Self-noise: -112dB(A)
Max input SPL: 132dB 
 Power Requirements: 48V DC Phantom Power
Output Connector: 3-pin male XLR
Breakout Cable: not included
Weight (mic body): 0.34 lbs. (155 grams)
Dimensions (mic body): 6.1″ x 0.87″ (155mm x 22mm)
Mount: Shock absorber type 
 In The Box:
 Verge Modeling Microphone
 Shock mount
Can be transformed into a vintage replica via the Antelope Audio Mic Emulation Packs.
Vintage Mic Emulations:
Berlin 184, Perth 55, Freiburg 6, Aalborg 4006, Hamburg 40
5. Contacts
Having difficulties with the Verge microphone or anything else Antelope? Get in touch with us by the following means:
European Direct Support Line
+44 1925933423
10:00 a.m. – 10:00 p.m. (EET), Monday – Friday
USA Direct Support Line
+1 (916) 238-1643
7:00 a.m. – 6:30 p.m. (EST), Monday – Friday
Online (live chat and e-mail)
Antelope Audio Support Page